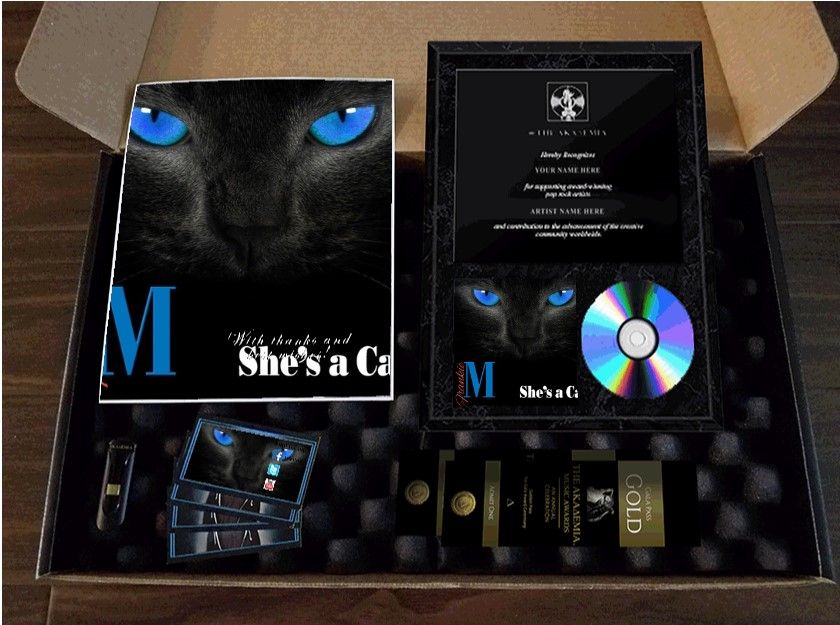 Click on the photo above to visit the website
Entertainment Now Interview
Frankie M. Interview
Frankie M. is a new kind of pop artist - thoughtful, multi-talented and confident. With the debut radio single 'She's A Cat' running up the charts, Frankie M. is in a unique position to re-define the genre. Generally speaking, pop artists are highly dependent on relentless commitment and strong musical instincts to succeed in the market, and Frankie M. is well positioned to excel in this regard. Now that the mesmerizing new radio single 'She's A Cat' is catching fire on radio, it's clear that we'll be hearing a lot more of Frankie M. Perhaps that also explains why Frankie M. was the recipient of the prestigious Akademia Music Award for Best Pop Song on April 15, 2020. Reporter Lauren Scott recently caught up with Frankie M. to learn more about this intriguing artist and the inspiration behind what is clearly a captivating new sound. 
LAUREN: When you first began making music, did you ever think you would take it this far?  
FRANKIE M: Yes, I knew that music was going to be a major part of my life. 
LAUREN: Your new single is currently getting a great response on radio. How would you describe your new single? 
FRANKIE M: The new single called 'She's A Cat' was written over thirty years ago for my kids. It was a fun recording that I did with my former band. Looking through my archived music I rediscovered it and was convinced by friends to release the song as a single. 
LAUREN: How has your music changed since you first began? 
FRANKIE M: I don't believe music changes; it is just interpreted differently by different artists. 
LAUREN: What is your creative process when it comes to songwriting? 
FRANKIE M: Sometimes I'll get a flash of inspiration in the form of a line, or a melody or sometimes just a word or phrase, and it develops from there. 
LAUREN: During this creative process, where do your musical ideas come from? 
Frankie M: Musical ideas are all around us, all you have to do is observe and listen with your inner voice. 
LAUREN: How do you feel about the dramatic changes in the music business over the past decade? 
FRANKIE M: I feel that the music business is evolving in a very rapid pace. I think that technology has given many independent artists a voice. There are more opportunities to be heard though more difficulty for music promotion. 
LAUREN: What is the best compliment you ever received? 
FRANKIE M: A standing ovation, that's the ultimate compliment for a performer. 
LAUREN: What do you find most rewarding about being an artist? If you embarked on a world tour, what is the first city you would want to perform in?  
FRANKIE M: My birthplace, New York City. 
LAUREN: If you could sit down with one of your favorite artists, who would it be and what would you ask them? 
 FRANKIE M: It would have to be Tony Bennet and I would ask how he lasted so long on top. 
LAUREN: Is there a particular era in music that you draw the most inspiration from (ex. 70's, 80's, 90's etc.)? 
 FRANKIE M: From the 40's and 50's. 
LAUREN: When you are working on a song, who is the first person you share it with?  
FRANKIE M: My singing partner and my close musical friends. 
LAUREN: What new music are you working on and when will fans get to hear it? 
FRANKIE M: I'm working on a new Swing album. It will be released in the Summer of 2021. 
LAUREN: That sounds great! Thank you for giving us more insight into your life as an artist. I wish you much continued success in your career!  
Frankie M: Thank You Lauren 

Marquis Global network 
Frankie M. Interview 
Brilliant Artist and Entertainer Frankie M. Taps into a compelling vibe to create an original blend of pop alchemy. It's little wonder why the radio signal "How Can I be Expected" is racing up the charts. 
New Jersey resident Frankie M. is an excellent example of a pop artist that elegantly leverages originality and composition skills to the service of modern entertainment. The new single "How Can I be Expected" demonstrates remarkable musical stylings that are sure to appeal to mainstream audiences. This Artist's constantly original approach is coupled with the right look and the right attitude to become a proper pop magnet and audiences around the world are beginning to acknowledge the fact that a new creative force has arisen. Where will the journey take this artist from here? Frankie M. was the recipient of the Akademia Music Award for best pop album on June 15, 2019. We suspect this artist will navigate to future on passionately reconciled terms, given the dedication and skill displayed those far. Reporter Alexis Adams caught up with Frankie M. To discuss the exciting journey ahead.
Alexis: When did you first get the feeling that your music career was gaining momentum? 
Frankie M: When I won my first best song award from The Akademia of Music Awards. 
Alexis: Is there an underlying theme to your latest single "How Can I Be Expected?" 
Frankie M: Yes, it is about a person who is content with losing his love but resents friends for trying to set him up with someone new. 
Alexis: Does this theme connect to all of your recent musical works? 
Frankie M: Not really there is no connection. 
Alexis: What is the quirkiest thing about you as an artist? 
Frankie M: I am a very shy person, but I always feel like a different person when I'm on stage. 
Alexis: when do your musical ideas come to you? 
Frankie M: It can happen anytime. There is no set pattern. Inspiration can come at anytime and come from anywhere. 
Alexis: In addition to music, what are you other passions or interest? 
Frankie M: I love teaching, Reading and watching great stimulating biographical movies. 
Alexis: What change or changes would you like to see in the music industry? 
Frankie M: I would like to see more opportunities for up-and-coming independent artists. 
Alexis: What is your proudest moment in your music career to date? 
Frankie M: Receiving the Akademia Executive Award for outstanding creativity, artistry and professional achievement in the field of music. 
Alexis: Which musician would you like to collaborate with most? 
Frankie M: I love to collaborate with any musician whose music I resonate with. 
Alexis: Are you working on new material now? If so, is it in a similar vein as your latest single or a radical departure? 
Frankie M: I'm working on a song about appreciating the town where I grew up. 
Alexis: Sounds good. Congratulations on your success thus far! Wishing you much luck and prosperity in the year ahead. 
Frankie M: Thank you so much Alexis.